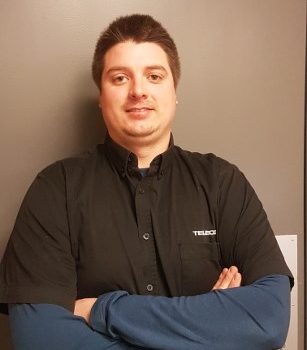 My name is Jesse Johnson I am a junior technician at Teleco Landline.
The thing I enjoy the most about my position is the feeling of pride in a job well done . I like being able to go into a job, plan it out, execute that plan to completion and then leave the job having pleased the customer.
TELECO is a forward thinking company and I like that the best about the company. There is always something new to offer the customer and install or learn about and so many knowledgeable co works willing to help without question.
I'm a bit of a workaholic but when I'm not pulling cables you can find me and my camp with my kids, fishing or out for a hike with my dog.
Other Certifications: Basic Underground Hard Rock Mine – Common Core UG 1,2 & 12, Railsafe
I've been with Teleco™ since: April 2017
Certifications:  Fall Protection Training, WHMIS Training, First Aid Training