Subcontracting Services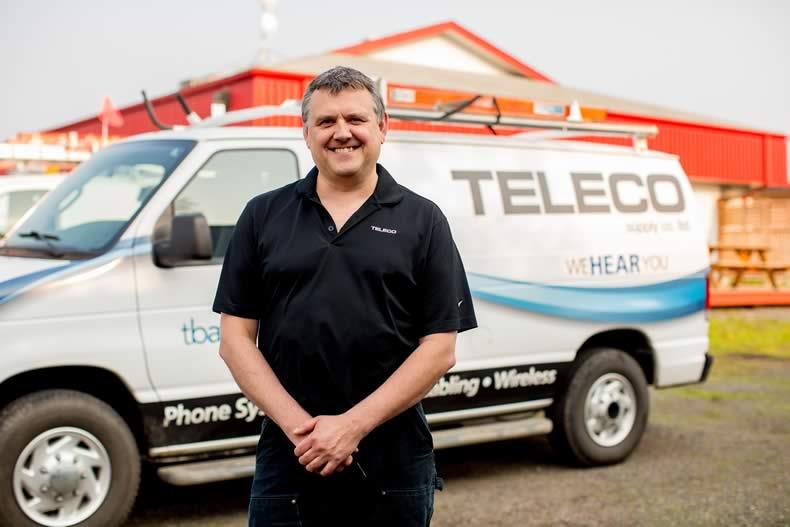 "Committed to excellence in the communication products we sell and the service we provide."
Teleco is a locally owned telecommunications company serving the needs of Thunder Bay and Northwestern Ontario since 1985. Teleco was founded by major shareholders Frank Littlefield, formerly with Bell Canada, and Mel Peterson. Frank Littlefield is the President and General Manager. Penny Belluz is the Manager of the Landline Business Systems Division.
Teleco is an authorized provider of business telephone and voicemail systems, data and wireless networking, as well as, voice and data solutions. This combination creates a one-stop solution for all your communication requirements.
Teleco would like the opportunity to work with you to support your customers in any aspect of their communication infrastructure. From implementation, planning and pre-staging, to moves, adds, changes and repairs. Our wide range of expertise encompasses the following and is always expanding.
Ontario Ministry of Training, Colleges and Universities—Basic Underground Hard Rock Mine – Common Core program # 770225
AVAYA Silver Status Business Partner for Digital and IP Telecommunication systems
Authorized and Certified for AVAYA Radvision Scopia Video Conferencing
AVAYA Expert Level Certified Team for the installation service and support of telephone and voicemail systems for all applications.
NEC authorized and certified
Factory trained service technicians available 24 hours a day 7 days a week
Data WAN/LAN Installation and Repair
IP Readiness Testing (VoIP)
Wireless LAN Installation and Repair
Wireless LAN Survey
Authorized CommScope, Systimax and Belden CSV status for Structured Data Cabling Solutions
Structured Cabling Moves, Adds, Changes and Repairs
School and Public Address Paging Systems
Point to Point and Point to Multi-Point Wireless Networking
Call Accounting Systems
Patch and Activates
Authorized Tbaytel Dealer
We service Northwestern Ontario and we have listed the common places we travel to our on Service Region page.
Often we are asked to facilitate in multiple installations/roll-outs to various sites across Northwestern Ontario.
As we are familiar with the locations of each of these cities we would provide cost savings to you by mapping out the travel and site visit to each site in the most quickest, safest, cost effective way possibly. This may require an overnight stay at a particular city/town and continuing on to the next site the following day instead of returning back to Thunder Bay and driving out again to the next site. This may also include working through a weekend to continue on to the next site instead of returning all the way home back to Thunder Bay and back out the following Monday morning.
This would be discussed with your rep to choose an option that provides the best customer service experience, as well as, most efficient means of deployment in the region. Not only does this provide some cost savings to you, but also provides a lower environmental impact on the environment by reducing drive time, gas consumption etc.
As we are also covering a lot of distance to arrive at these remote sites we also take it upon ourselves to contact the customer and confirm that they are aware that we are on route and provide an expected arrive time. This practice has been adopted to prevent unnecessary travel time or overnight stays if the client cannot be available to allow us after-hour access to their site.
Teleco works with all employees to provide and create a safe and healthy workplace.
Together we strive to increase awareness of safety and health at work, as well as, promote a culture of workplace injury prevention. Teleco constantly works to develop, improve and maintain our occupational health and safety standards. Our Joint Health and Safety Committee meets monthly and we conduct monthly Safe Operating Procedure Training for all technicians. Certificates for Health and Safety training can be provided.
Read about our Health and Safety initiatives at Teleco™to keep employees safe on job-sites and our Environmental and Social Initiatives.
All technicians also have current security clearances (Including OPS/NAS/ Enhanced CPIC) and can also be provided.
Our regular office hours are Monday to Friday 8:00 am to 4:30 pm. Service is obtained by calling our Service Centre directly at 807-346-7292 or toll free at 1-855-341-7292. After-hour service is also available 24 / 7 by calling the same number. If you call outside of Monday to Friday 8:00 am to 4:30 you are then prompted to select non-emergency (which your call will then be returned the next business day) or emergency. If emergency is selected the on-call technician will return your call within 15 minutes.
At Teleco we pride ourselves on our service and we look forward to exceeding your service expectations.
Please contact Teleco about subcontracting services.
Environment
We are committed to sustainability and energy management and recognize that our activities can and do impact on the environment.
We seek to work within guidelines and standards of environmental care. Currently 100 percent of our paper packaging is derived from recycled material and we have eliminated plastic bags in our retail showrooms. We also email invoices to clients instead of printing and mailing an invoice, however, will print and mail at the request of our clients.
At our Landline Division office we also participate in the Ontario Electronic Stewardship Program (http://ontarioelectronicstewardship.ca) recycling old phones, phone systems and other telephony equipment. By recycling these products we are helping to:
Keep end-of-life electronics out of landfills
Prevent them from being illegally exported or handled by irresponsible recyclers
Help to recover and recycle valuable resources that can be put back into the manufacturing supply chain.
Business Ethics
Teleco™ is committed to rigorous professional and ethical standards.  Honesty and integrity are paramount to our business.
Workforce
We believe in team support and working relationships. The health and safety of all staff is taken very seriously.
Equality Policy
Teleco™ is committed to provide equality in employment regardless of age, sex, disability, colour, marital status, race, sexual orientation, nationality or ethnic or national origin. Career opportunities are judged on merit. We adhere strictly to these policies and look to our employees to do likewise.  Any act that may result in harassment or discrimination is viewed extremely seriously and will constitute a serious disciplinary offence.
Suppliers
We encourage our suppliers to adopt responsible sustainable practices for the mutual benefit of the environment. Avaya is committed to leaving the environment the same or better. As a leading global provider of communication solutions, Avaya is proud to help our customers reduce harmful impacts on the environment by curtailing energy consumption, travelling less and minimizing electronic water though BYOD (bring your own device technologies).
Initiatives include placing of orders by email and electronic payment of bills to reduce paper use.
At Teleco™ we try to be a good corporate citizen.  We are a Platinum member of the United Way and have been a member since 1992. As a platinum member 90% of employees contribute with an average gift of $130 per donor.
United Way Thunder Bay Employee Campaign
For over 10 years, our Teleco family sponsors a local family for Christmas through the Christmas Sponsor Family program with The Children's Aid Society of Thunder Bay. We enjoy picking out and wrapping special items for a deserving family.
Our initiatives include:
Electricity Use
To reduce our electricity usage we promote the following action:
Switching off monitors and hard drives, photocopiers and printers at night and weekends.
Electronic equipment is not to be held on standby.
Lighting in our offices and common parts is switched off during the day as appropriate, each night and weekends.
All our printers and photocopiers have enabled energy saving features so they power down during out of office hours.
Our office workstations have been positioned to maximize the use of natural light whilst minimizing glare to computer screens through the use of window blinds and modern efficient overhead lighting. Low Waste Strategy Teleco encourages all staff to keep waste to a minimum and to re-use or re-cycle.
Initiatives include:
Staff are encouraged to correspond by email and to print on scrap paper and to print double sided where appropriate.
The re-cycling of garbage, paper, plastics and glass.
Electronic transfer of data, including the paying of supplier bills and the placing of orders by email.
The purchasing of products that contain packaging that can be easily recycled.
In respect of the recycling of office furniture, old computers etc., we contact voluntary organizations to see if they wish to collect these products for re-use.