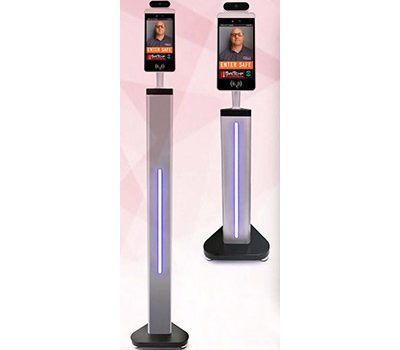 SafeTemp Thermal Temperture Scanner Desktop $450/month AaS
With Facial Recognition and Access Control Capabilities
As business re-open and allow employees and visitors back into the workplace it imperative to have a precautionary touchless, solution in place today! Protect the health and safety of your employees and guests while unitizing customized, digital signage to direct and inform visitors.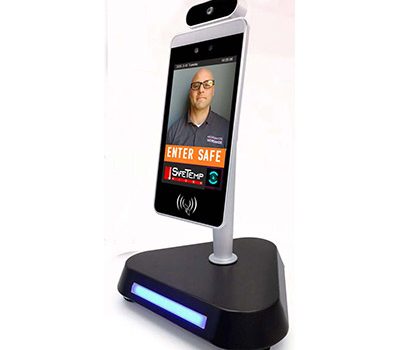 SafeTemp Thermal Tempture Scanner Desktop $395/month AaS
Fully Customizable - Add custom wrap for company logo - Holds database of 30,000 employees - Visual and audible alerts if a fever is detected - Built in speakers provide verbal alerts including abnormal temperatures, and message to wear a mask if they're not wearing one - Commercial grade, water resistant and dust-proof design which is stable and durable - Up to 21.5`` display that supports built in media player
Frequently Asked Questions
Click on the question to get the answer
What is the technology that allows the SafeTemp Kiosk to screen a person's temperature?
It is a thermal sensor made by a German medical company that scans a person's entire body.
How accurate is the product and does it need calibration?
It is a thermal sensor made by a GermanThe delta for error in temperature scanning is from .1 – .5 Celsius. The SafeTemp Kiosk generally
does not need calibration, however there is an offset value setting for use in warmer environments such as outside in warm climates. medical company that scans a person's entire body.
How far does a person need to be from the device to be properly scanned by the SafeTemp Kiosk?
The SafeTemp kiosk will detect movement 3 to 6 ft, and will scan once within 2 – 3 ft range.
The Kiosk will also detect a person at a distance and audibly alert them to come closer.
What happens when a person is scanned and has a heightened temperature?
The SafeTemp Kiosk is customizable and can perform anything from an audible alarm
sounding with lights flashing red, to a silent alarm via a Bluetooth connection to an enabled device,
and a red light on the Kiosk. Making your staff and visitors feel comfortable is our priority.
Does the Kiosk require people to wear masks to succesfully scan them?
The SafeTemp Kiosk provides flexibility as it relates to masks. The option to enforce
the use of masks is simply a toggle switch in the Admin dashboard. When enabled,
the SafeTemp Kiosk will alert when a mask is not being worn.
Where is the data stored and how can I access the data logs of scanned people?
Data storing functionality is optional. The data can be easily stored locally on the device, or can be stored
on a host computer/server on your network. Cloud based storage integration will be available very soon.
Can the SafeTemp Kiosk be integrated with my security or access control system(s)?
Yes, we offer integration services which will tie in to your security and access controls.
Due to the customized nature of most security and access control systems, we provide this service for an additional fee.
What is the lead time to purchase the SafeTemp Kiosk?
Average delivery time is 7 to 14 days, depending on level of shipping selected.
What type of warranty does the Kiosk come with? Do you offer product setup after it ships? What about support?
The SafeTemp Kiosk includes a one year product warranty. We have U.S. based
online agents available to assist with initial setup. We also have an online tutorial library.
Ongoing support and remote management is available for a monthly fee or a one time "per-incident" fee.