Save Money By Lowering Your Monthly Telecommunications Costs
Our Cloud-based, unified communications solution offers state-of-the-art phone, chat and collaboration feature functionality with little up-front investments and low monthly bills.

Teleco's solution can easily grow with your business without the need for any on-site core hardware or IT and networking expertise. Save money and let your business phone system work for you!
Back to Business Anytime Anywhere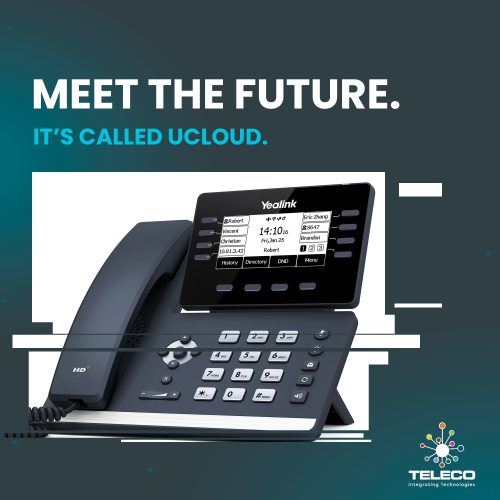 Seamless, Stable, Reliable Connection Any Device, Any Location
Fully-featured
Enhance your communication experience with 75+ features like a virtual receptionist, multi-level auto attendants, voicemail to email, call recording, voicemail transcription, music on hold, paging, mobile app and soft console.

Never miss a call thanks to multiple-device ringing capability and using VOIP phones with built-in wifi for easy portability. Increase productivity and enable your team to stay connected whether in the office, at home or from their mobile device.

Powerful and affordable
Our hosted voice solution delivers powerful features, flexibility, scalability and automation, with significant cost savings when compared to a traditional PBX.
Less to buy and maintain
Up-front capital expense is minimal. No need to own, purchase, install or maintain your own PBX core.

No more technology obsolescence.

A simplified infrastructure – access local, long distance, toll-free, and the Internet via the same circuit.

Ongoing administration is simple with UCloud's admin interface that enables your to monitor and make changes as required.
Feature-rich
High-end features without a high-end price tag.

Scale up or down, based on your business needs – pay for only what's needed.

Enhanced mobility with mobile app.


Work anywhere easily and seamlessly from home, remote office, on the road or on the go just as if you were at the office.
Budget-aware
Predictable monthly communications expenses.

Savings on trunks, toll-free numbers and long distance range from 15% to 50% or more every month.

Fixed cost or metered long distance.

Reduced IT staff time commitments.
Wherever you are
Easily add stations or provide services to geographically-dispersed locations and/or telecommuters.
Connect locations
Network with other locations with ease.
One big, happy PBX
All users and locations are members of the same "virtual" IP-PBX – and regardless of size or the number of calls received, a busy tone is never returned to prospects or customers.

Soft phone flexibility
Improve productivity for mobile employees, as all features can be extended through the use of laptop-resident soft phones. Flexibly route business calls to any phone anywhere in the world.
Continuity assured
Disaster recovery options ensure you are always up and running.
Web-based management
Web-based service management interfaces make certain tasks (e.g. moves, adds and changes, voice mail greeting changes, call forwarding treatments and destinations) easier for support staff and end-users.