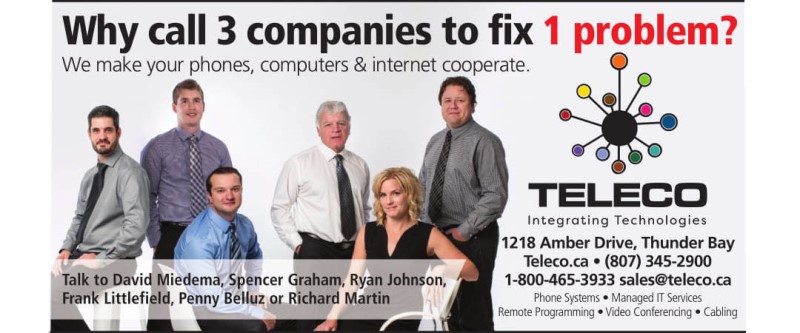 As featured in Northwest Progress Magazine - February 2019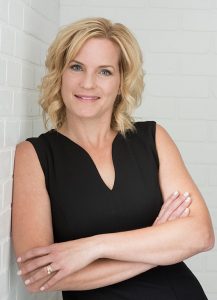 As a locally owned company committed to delivering specialized technology solutions and products since 1985, TELECO has seen a vast
transformation in technology and services. "We've come a long way in 34 years ", stated Penny Belluz, Director of Operations and Partner. "When TELECO first started we were installing phone systems for customers that
were a separate box on the wall. A lot has changed over the years. Looking back now, we could never have imagined that we would be offering our customers cloud voice, managed IT services, cyber security solutions, cloud
work space, and video surveillance," recalls Belluz.
As a technology company, one of their core values is embracing and driving change. "We are constantly investigating and evaluating advancements in technology to make sure we are offering our clients the latest and greatest in technology.
We were at the forefront to offer SIP dial tone to Thunder Bay, and Northwestern Ontario", said Belluz. SIP is an abbreviation for Session Initiation Protocol and is the widely accepted industry standard for
Voice over IP (VoIP) traffic. "SIP dial tone, connected to our AVAYA telephone systems allows our customers to take advantage of
immediate cost savings with the hardware required, as well as, monthly dial tone cost. It also offers greater redundancy and fail-over options and no limitations to the physical location of where the line(s) need to be
terminated. SIP is a service we are delighted to deliver to our customers to provide efficiency and profitability to their business and bottom line."
TELECO was also at the forefront to offer cloud-hosted VoIP phone systems. "We took a lot of time to explore and investigate many hosted service platforms to make sure we aligned ourselves with a partner that had the
same high-level expectations" explained Belluz. "We are super happy with our Clear Cloud hosted service that we choose. It's feature-rich, cost-effective and extremely reliable. Our Clear Cloud hosted platform is innovative for all work environments and is a true smart cloud communications provider.
In addition to newer SIP and hosted cloud service offerings, TELECO has become an MTSP (Managed Technical Services Provider) offering IT to their clients as a managed service, to proactively monitor, manage, optimize and analyze their customers' networks. "Our server monitoring and care operate 24/7. When a system or function fails to work properly, an alert is generated, and our team will immediately investigate the issue. Once we've identified the problem, our NOC (Network Operations Center) will take steps to fix it, remotely at first, and will escalate as necessary. This allows us to pro-actively fix issues without our clients ever knowing there was a problem", explains Belluz. "Our desktop support team will also pro-actively patch and support workstations, and provide personal support for any IT issue our end-user client is experiencing."
TELECO also provides cyber security monitoring and prevention services which complements their product and services portfolio nicely. "It's
not enough to only manage the hardware and software anymore. We provide employee cyber security awareness training and education
around cyber criminal tactics and activities. Cyber criminals are getting smarter and savvier. They infiltrate small and mid-sized businesses
daily so we provide our clients with the required education and knowledge to spot cyber-attacks like phishing, password and malware attacks."
TELECO has worked on many projects and developments in Thunder Bay and region. They are currently working in Thunder Bay at the new Delta Hotel by Marriot located at the waterfront, providing structured data cabling, cell boosters, audio video and security needs. New VoIP AVAYA phone systems and integration between municipal buildings across their data networks, were also designed and deployed for the Townships of Fort Frances and Marathon.
It's clear that over the last three decades, TELECO has created a culture that welcomes change and is excited to offer the latest technology to their clients. "It's exciting to think about what the next ten years will bring," said
Belluz "I can't wait to see how technology will evolve and change the way companies of all sizes communicate and we are thrilled to be an industry leader in this journey."
February 27, 2019
Categories: